Storuman - where Sweden's top mountain guides are trained
Mountain guide course at Folkhögskolan, Storuman's adult college.
A two-year training course providing students with practical outdoor experiences in all seasons. Trainees are expected to be able to function in adverse conditions, no matter what time of year, and to master several disciplines. Terms consist of different experts leading students through a range of subjects. The course also includes a nine-week internship and an eight week project, where the students are expected to choose what they want to focus on.
The course was established in 1979 following an incident in the mountains when eight people froze to death. Its purpose is to train people as guides, equipping them with a number of rescue and survival skills relevant to any time of year. Mountain safety guidelines and instruction form the base of the course, but it also encompasses anything from meteorology to local arts and crafts.
I joined the class of 2001. We were a motley crew of 15 who successfully completed all the course challenges that were thrown at us. The youngest student was 21, the oldest, 43. The group had a varied educational background and different levels of outdoor experience.

Most weeks were spent outdoors in different locations across the region but the time spent at the college meant that we could use Storuman's amenities and facilities. We could run around the Lusphomarna islets, enjoy a session at the outdoor gym, or, in winter, go skiing on very well-prepared cross-country tracks. We also had the opportunity to test our powder snow turns or summit climbing equipment on Storuman's very own little slalom slope, Umanbacken.
Storuman is not a big place, but it's a very friendly one and it's easy to feel welcome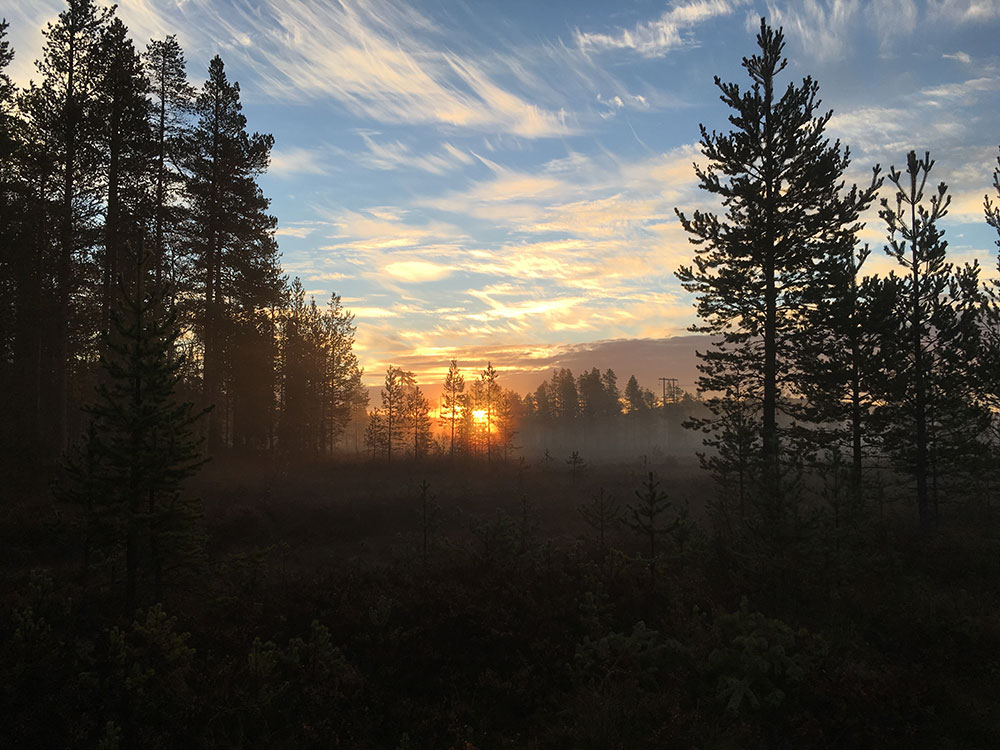 Running track in Storuman during an early morning run. 
Within the outdoor leisure sector I quite often meet people around the country who have done the course. They usually heap praise on it and reminisce fondly about their time here. Guides, wardens, dog sled drivers and adventurers – they all regard the course as the starting point for their careers. There are those though who look back and simply remember an exciting two-year period which gave them a lifetime's-worth of memories.
Another course veteran is adventurer, Johanna Davidsson, who won Sweden's Adventurer of the Year award in 2016, and has written a book about her record-breaking solo skiing expedition to the South Pole. Johanna was fascinated by the natural medicines that could be found in the wilderness and went on to become a nurse. Today she combines that role with one as a guide on the remote Arctic island of Spitsbergen.
Three course highlights.
Three-week tour: Three late winter weeks on cross-country skis in the Vindelfjällen mountains pulling a sled and tent. We had to plan and carry it out by ourselves. It gave us a real boost to our self-confidence as we found that we could endure (and actually enjoy) being outdoors, in winter, for such a long time, even though the temperature often went below -20°c and the wind blew at 25m/sec.
Marsfjällen mountains: a very overlooked area with huge potential for outdoor activities. It is only a couple of hours' drive from Storuman.
Outdoor events with Storuman schools: we had the chance to create a number of outdoor activities for pupils of different ages. We found this fun and, in particular, interesting to teach youngsters about first aid, navigation and outdoor cooking.
My favourite Storuman spots
Church Trail: Storuman – Stensele
If you like walking or running on small windy and uneven surfaces then this trail with its different sections is perfect. If you want to include a steep incline on the return to Storuman, then take the snow mobile trail from Stensele. This will lead up to the viewpoint where there is a tower. Run up the steps and end by gazing over the amazing view – and getting your breath back!
Skarvberget
There is much to discover in the villages surrounding Storuman. One of my favourites is Skarvberget hill in the village of Skarvsjöby (or Skarven as it is known colloquially). Only 16km south of Storuman, it makes for a perfect bike ride and there are several alternatives for getting to the summit; steep and stony or a path. At the top is a commanding view of Skarvsjön Lake and seemingly endless miles of forested landscape. You won't see much evidence of humankind, although a wind shelter and outdoor toilet do mean that you are not the first to set foot up here.
If you do choose to go to Skarven, don't forget to stop off at the rest area by the bridge over the River Umeälven. The river channel contains many rounded stones, forged by the rapids which turn golden in the evening sunlight – magical!
Hembygdsgården Local Museum – Luspholarna Islet
There is a great old-fashioned baking oven which can be hired out by anyone wanting to make bread. Discover how make the traditional thin unleavened bread that is so popular in the north. Do your own version and use it to make pizzas in the oven!
In autumn lingon and blueberries grow in abundance. Take some buckets, bring the children and get picking. We freeze the fruit so that we can make great smoothies during the winter
Not far from the museum building is a large wind shelter with an open fireplace. Bring a friend and enjoy the serene surroundings as you cook over an open fire and sleep under the shelter. Actually, you don't have to bring a friend, it's a great thing to do on your own as well!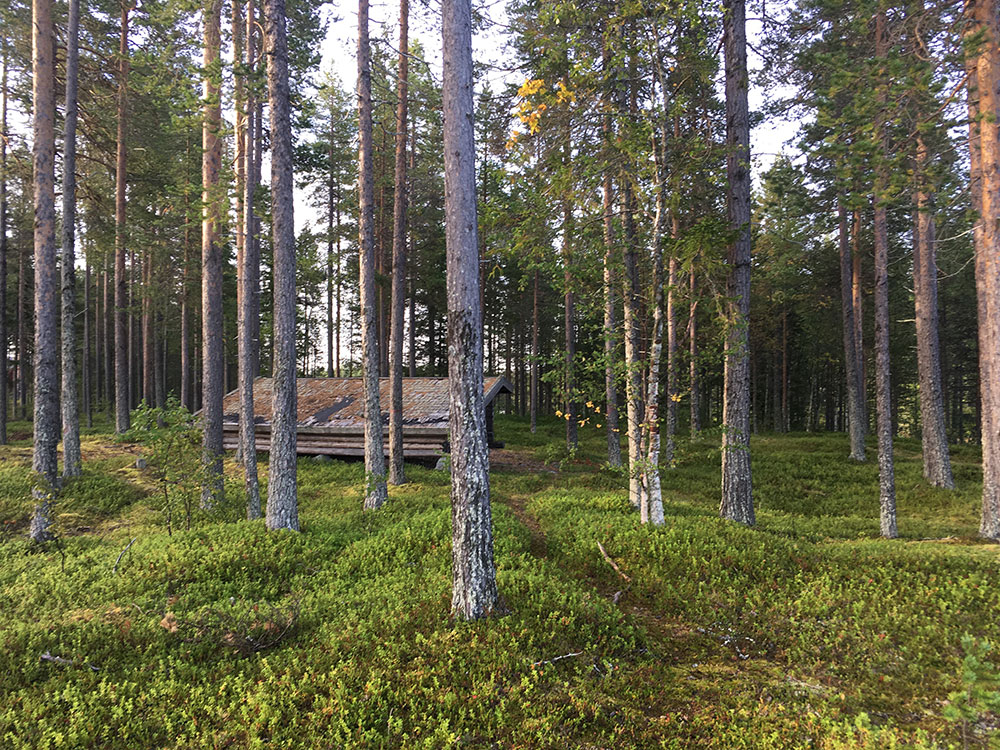 Text & foto: Amanda Mannervik 
About the author:
Amanda Mannervik is an innovator who decided to move north and retrain as a mountain guide. Today, she lives and works in the mountains. 
You can read more about Amanda on her blog Outside Sweden. To the blog.
Photo of Amanda
: Christoffer Holmberg